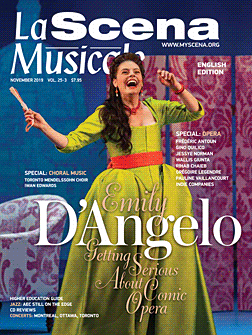 This page is also available in / Cette page est également disponible en:

Francais (French)
Frédéric Antoun is one of the most internationally recognized Canadian tenors today. He is known for his versatility and fluidity in the high range and being able to perform anything from baroque to modern opera at a high standard. He is a regular at the prestigious Opéra de Paris and Royal Opera House, Covent Garden, performing roles such as Fenton (Falstaff) and Ferrando (Così fan tutte). He made his debut at the Metropolitan Opera in 2017, interpreting the role of Raúl Yebenes in the opera The Exterminating Angel by Thomas Adès. A notable career highlight was his debut at Covent Garden in the role of Tonio in La fille du régiment in 2014. He was replacing none other than the Peruvian superstar, Juan Diego Flórez.
We caught up with the Montreal-born tenor in the studios of the Opéra de Montréal before his role debut as Edgardo, the lead tenor in Donizetti's Lucia di Lammermoor. We began our meeting by discussing what seems to be one of his favourite topics: voice technique. He quickly jumped to the piano and gave me some very resonant examples, singing ascending fifths on the vowel "a." I immediately noticed that his voice had become richer, sounding like a full lyric tenor rather than the light tenor voice many might remember. He revealed that he feels his voice wants to expand more and more; that's why he's so excited for the opportunity to sing Edgardo for the first time.
He started to feel the need for vocal expansion about five years ago. "At the time I was in Toronto to sing Fenton at Canadian Opera Company and caught a viral laryngitis that made me lose my voice completely. The conditions were such that I had to rush my recovery. After that, I began to have a hard time singing my high notes. I couldn't understand what was happening to my voice. It was so frustrating! I then decided to take some time off, even if that meant cancelling some contracts."
Antoun began his recovery by experimenting with his voice and eventually found a new way of singing that placed less pressure on his larynx. "Before, I was obsessed with singing forward in the mask, but I figured out that we can't really put the voice anywhere, so instead of obsessing with the high voice and placement of the voice, I began to work from the bottom up. Vocalizing in the morning when the voice was more relaxed for example. I tinkered with it and for a period even made some mistakes like over-darkening the voice. However, at one point I found a good balance and that's the place where I think I am today."
At the moment he's seeking to explore that newly found full lyrical tenor voice in the bel canto repertoire, particularly in certain Verdi and Donizetti operas. He thinks of this new approach as a calculated risk, one that will require constant monitoring and paying close attention to orchestration, in order to avoid fighting the orchestra to make his voice heard.
He will be starting this new phase with Edgardo at Opéra de Montréal, followed by his debut as Alfredo in La Traviata at the Royal Opera House, and finally his first Duca di Mantova in Rigoletto at the Opéra de Paris. I asked him how he felt about premiering the last two roles in two of the biggest opera houses in the world. "It's funny because most tenors will premiere roles in smaller opera houses to test the waters," he answered. "In my case, it has been the opposite. I've premiered many important roles at the Royal Opera House and at the Opéra de Paris. It hasn't been a conscious choice on my part and I still don't understand why they keep taking risks with me. I want to thank them for having so much confidence."
GROWING PAINS
Although Frédéric's parents are not professional musicians, they are passionate about music. "Every day there was classical music playing through the speakers. Everybody in my family has a good singing voice and apparently my father wanted to be a singer when he was younger." Frédéric and his siblings were enrolled in piano lessons at a young age. Later he also received cello and trombone lessons.
However, by the time high school came along, classical music and music lessons were a thing of the past. Like many adolescents of his time, he enjoyed listening to rock music. Around the age of 20 he began reconnecting with classical music and heard for the first time Beethoven's Fifth and Ninth Symphonies. "I just thought it was genius, like an expression of God." Fuelled by his youthful energy and his new passion, he dreamed of becoming a composer. He amassed his courage and auditioned in both piano and voice at St. Laurent College and L'école de musique Vincent d'Indy, following the advice of some of his friends who thought he made a good imitation of an opera singer during pool parties.
Unsurprisingly, he wasn't accepted into the piano program. "I had three weeks to put a long piece together and hadn't really practiced in the last 10 years. In fact, I don't think I was even able to learn the whole piece for the audition. I was a bit unaware at that young age." In the end, his vocal talent did earn him enough attention to be admitted to the voice program at L'école Vincent d'Indy.
Fast-forward two years. After completing his CEGEP, Antoun held on to the idea of becoming a composer. He attempted to complete a double program in composition and singing at Université de Montréal. Unfortunately, some bureaucratic issues with the credits forced him to choose between the two specializations. "At that point I had already started to have a few engagements as a singer, so I decided to continue in the singing program and compose on the side, which never really happened."
After his stint at Université de Montreal, Antoun was accepted into the prestigious Curtis Institute in Philadelphia to perfect his craft. "Curtis was a godsend. There are moments in life you remember forever, and the day I read the acceptance email is one of those. It's a school that has such a personalized feel and is at the top of its game. It's all wood inside; it feels like a home and not like an institution."
He added that Mikael Eliasen, head of the opera department at the time, understood well that in order to be a professional singer, the most important training is to get some stage experience. "I only spent between a third and half of each year at Curtis, as I was hired by the OdM as Pang in Turandot, Chabrier's L'étoile, Lakmé, Tito… Curtis allowed me to dive into the professional world while still having supervision. I had a lot of luck to have people believe in me."
DONIZETTI VERSUS MOZART
"Mozart's main vocal difficulty is in the ensembles, particularly the ones that come at the end of an act. The tenor has to sing high notes repeatedly in their passaggio F Sharp, G, F Sharp, G, F Sharp, G! This way of writing is more suited to instruments than the human voice. It creates a lot of tension, and if not properly learned with good technique, can be detrimental to the singer. You also have to follow a very strict metric, and you don't have many high notes to show your voice. The highest note most of the time is A4, a minor third lower than the famous tenor high C.
"By contrast, in bel canto repertoire, if we take for example a role like Edgardo in Lucia, the singer has time to sing and do nuances. We don't have to feel rushed and respect a static metric and we can do more rubato. I love being able to hold and sing B Flats, Bs and high Cs. Bel canto roles like Edgardo ask from the tenor to do exactly that. It's part of the tradition."
"Another example of the way Donizetti understood the tenor voice occurs in La Fille du régiment and the aria 'Pour mon âme.' I may sound like I'm bragging, but those nine consecutive high Cs are not difficult to sing! I know many of my tenor colleagues share the same opinion. The reason being they are well prepared for and the music almost helps you to be able to jump and get them."
He added that overall, Tonio is a relatively easy and rewarding role for the tenor. "The character doesn't have much more music to sing than two arias and he gets to steal the show with the nine high C's, receiving
the standing ovation at the curtain."
STAYING CALM
"Being calm is the most important thing in the life of a singer," Antoun said in an animated voice. This statement seemed contradictory coming from one with such a youthful, curious and energetic personality. When I queried him about it, he argued that it's because he has so much energy and curiosity that he often has to tell himself to relax, stay simple and trust himself. He added that as a singer the breathing has to stay under control, even when he is feeling stage fright.
"You have to find the calmness by being in the moment," he said. "The day of the show I also try not to talk and not to get bothered by anything. I also try not to be too strict about any particular routine. As singers we are constantly travelling and in changing conditions that we can't control. If my routine is too strict and I can't do it, I don't want the situation to feel like a curse."
SI CANTA COME SI PARLA
Frédéric has a resonant speaking voice, almost the same as when he's singing. I asked him if he was aware of this. "People often say this and I don't agree. Actually, talking tires my voice a lot more than singing." He added that he feels the catchphrase used in some opera circles: Si canta come si parla (one should sing like one talks) has never helped him sing better. He said mockingly in Italian: Non e vero. Per me, non e vero ("It's not true, for me it's not true").
He explained that when he talks he doesn't pay the same attention to his breathing as when he sings. "If I sing like I talk, then the sound becomes one-dimensional and lacks harmonics."
In his opinion the tenor voice is also the most difficult to master because it has the highest sub-glottic pressure, particularly in the high notes, so the smallest mistake can have catastrophic consequences.
"However, I can understand that as singers and communicators we should aim for the voice to sound natural and unforced. But let's be clear, there is nothing natural about singing opera, particularly for the tenor voice." He then quotes the Polish tenor Piotr Beczała: "A tenor has to be always ready to jump vocally – and act like a tiger ready to pounce on its prey!"
Donizetti's Lucia di Lammermoor, presented by the Opéra de Montréal, runs Nov. 9, 12, 14
and 17 in Salle Wilfrid Pelletier of Place des Arts.
www.operademontreal.com

Tickets also available in the LSM Boutique. 10% discount using coupon boutique10%
This page is also available in / Cette page est également disponible en:

Francais (French)