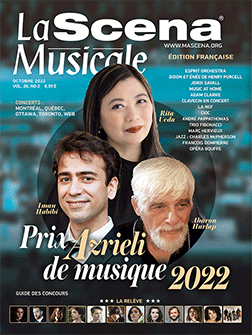 This page is also available in / Cette page est également disponible en:

Francais (French)
The Trio Fibonacci will present a series of four concerts at Bourgie Hall this year. The ensemble will be heard on Oct. 26 on fortepiano and gut strings. The three musicians are excited about this rare and special experience of hearing the great trios of Mozart, Mendelssohn, and Schumann on period instruments.
"This will be a unique concert, because playing classical repertoire on the fortepiano is not something you hear often," says Julie-Anne Derome, the trio's violinist. "Not only are there not many performers who do it, but the availability of period instruments is a problem. I have the impression that these works, although already alive on a modern piano, will take on a new life on a period piano—they will take on new colours, the strings will resonate and vibrate even more. I am sure that in Bourgie Hall the effect will be wonderful. I think that everyone—audience, or performer—will find something in it."
The second concert, on Dec. 2, will feature a French repertoire. Two female composers, Cécile Chaminade and Mel Bonis, who are little-known today but were well regarded in their time, will be honoured, and will share the program with a giant of the repertoire, Ravel. The Trio Fibonacci offers us a different repertoire and a remarkable experience. "We weren't thinking of making a distinction between genres—male and female composers—it's just that we've been interested in the trios of Chaminade and Bonis for a long time and we finally found the right time to present these works that are hardly ever played," says Derome.
At its third concert on March 4, 2023, the Trio Fibonacci will don its Slavic soul to perform two spellbinding trios by Czech composers Dvořák and Smetana. The two works on the program are among the artists' musical favourites. "Smetana's trio, which adheres to the tradition of the great elegiac trios like those of Tchaikovsky and Rachmaninoff, is a moving autobiographical tale, and leaves the audience filled with emotion. While Dvořák's third trio, less performed than his Dumky trio, is equally beautiful and powerful."
It is on May 13 that the Fibonacci trio closes its series at Bourgie Hall with its signature concert of minimalist compositions. "It's a program that we're used to presenting because it's highly anticipated by our audience," says Derome. "This year, we're continuing the tradition with performances of our adaptations of several minimalist works." The program will include works by Beethoven, Max Richter, Armand Amar, Ludovico Einaudi, Philip Glass and Michael Nyman. The trio will also perform a new work by the Quebec composer Marie-Pierre Brasset. "She wrote a first work for us a few years ago, which we liked very much, and we wanted to commission her to write a larger work."
The Trio Fibonacci has established a loyal following at Bourgie Hall and elsewhere. "It's hard to say what the highlight of our season would be because all of our programs are put together with great enthusiasm and each one has its own flavour," says Derome, "but we're really looking forward to starting the season in October with fortepiano at Bourgie Hall, which is always such a great venue."
In addition to the Bourgie Hall concerts, the Trio Fibonacci will be performing at the Richmond Art Centre on Nov. 19, at the Pavillon de l'île in Châteauguay on Nov. 20, at the Montreal Conservatory on Nov. 25, at the Maison des arts de Laval on Feb. 19 and 26, at the Isabel Bader Centre for the Performing Arts in Kingston on March 9, and at the Théâtre Alphonse-Desjardins in Repentigny on March 24.
This page is also available in / Cette page est également disponible en:

Francais (French)