Binge, n. (bɪndʒ): A bout of overindulgence; an instance of engaging in a particular activity (esp. eating) to excess
Usually the practice of binging refers to unhealthy things: imbibing, eating whole bags of chips, and—since the invention of internet streaming services—watching so much of a television show that your computer has to check that you are still living. It was in the latter binge situation that Patrick Hansen, the Artistic Director of Opera McGill, came up with the concept of an opera binge. "My boys and I were binging on [History channel show] Vikings and I went, 'We need an opera binge festival. Oh my God, we're going to do an opera binge festival!'" exclaimed Hansen in an interview back in November for La Scena Musicale ("Opera McGill @ 60").
"I was thinking, 'What can we do for the 60th anniversary that's really special?'" explains Hansen. "I wanted to get off campus, I wanted to do a fringe festival type of thing, and I wanted to do new pieces or cutting-edge pieces or opera for non-opera goers."
The Opera McGill B!NGE festival is based on a fringe festival model where attendees buy a pass and travel to different locations in the city. This Friday and Saturday, March 10 and 11, you'll have the opportunity to see 7 one-act shows in 24 hours. Festival passes are $65 regular, or $45 for students. If the binging lifestyle isn't for you, individual shows are $15 or $10 and each runs under one hour.
The Lisl Wirth Black Box Festival—named in honour of the mother of Opera McGill's largest benefactor, businesswoman and philanthropist Elizabeth Wirth—occurs each spring, but this is the first time it has taken on a true "festival" dimension. "It's funny because they called it the Black Box Festival," says Hansen. "A festival, to me, is something where you do more than just an opera. For most of the time, they just did one opera."
It's not only a first for McGill, but it's a model without precedent in the opera world. Other festival models usually have fewer shows spread over more days with longer runs of each: Opera Philadelphia has a festival of 6 operas spread over a 12-day period this September, Opera Memphis does a month-long festival each October, and of course, this year Vancouver Opera moved to a spring festival. It's a huge artistic and organizational undertaking for the school, with quick turnarounds on each opera, much like in a professional company.
There's a growing consensus of the need for innovation in opera and Hansen is pushing his students to embrace the new realities of the scene. "Flexibility is key," explains Hansen. "The opera world is different and training programs that do not recognize this are training people for an opera business that no longer exists." Graduates who make it into Young Artists Programs can expect to do many years of tours, children's musicals in elementary schools, or perform in independent opera companies in productions that push at conventional boundaries.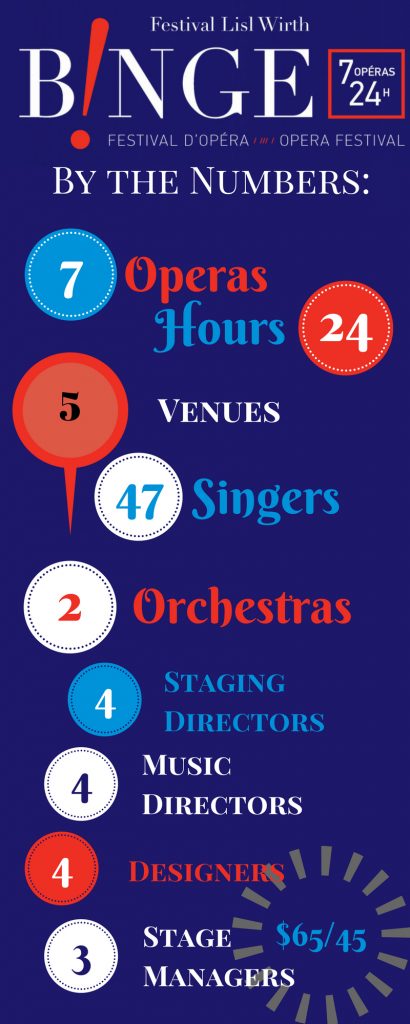 Some of productions operas will be more traditional, such Dido & Aeneas. "That was the first opera that Opera McGill did in 1956," says Hansen. "And 60 years later, almost to the day, we're doing Dido again in the same place. That's the history part of me." Directed by Jessica Derventzis of Toronto's Opera 5, Dido opens the festival on Friday, March 10 at 7:30PM at Redpath Hall.
The following morning at 11, there is a showing Hansen's own "transladaptation—a translation and an adaptation" of Mozart's The Impresario. The singspiel will be held in the Wirth Opera Studio in the basement of the Wirth Music Building, where St-Viateur bagels and Tim Horton's coffee will be served. At 1PM you can bring your entire family to a children's opera by Malcolm Fox, Sid the Serpent Who Wanted to Sing.
Then there's a French double-bill at Chapelle Historique du Bon-Pasteur with Massenet's rarely-performed Le Portrait de Manon and Ravel's L'heure espagnole. "The first part is very period, eighteenth-century, very gorgeous French stuff, furniture, and people sitting and watching," says Hansen.
"Then at intermission, the back wall opens up, the audience moves into the art gallery and they get their complementary glass of wine. L'Heure Espagnole will happen around them, immersive. They won't know what hit them, they'll be like, 'We just saw an opera sitting down and now why are there people doing opera around us?' They're going to get the yin and the yang."
"We're finishing with a big splashy production of [Bartók's] Bluebeard's Castle and the North-American premiere of James Garner's East o'the Sun, West o'the Moon." The final two productions are in a converted church, Théâtre Paradoxe, with limited cabaret-style seating and bar service.
"Some of these venues are really small, I also wanted that. I didn't want big, empty venues. I want people to be turned away at the box office," explains Hansen. "That's something that has to change: people have to stop taking live theatre for granted."
B!NGE FESTIVAL PASS (LIMITED QUANTITY) $65/$45 are available online or through the Schulich School of Music Box Office (in person or by phone: 514-398-4547) between 12:00PM and 6:00PM.
---
Dido and Aeneas: Friday, March 10, 7:30 p.m, Redpath Hall
The Impresario: Saturday, March 11, 11:00 a.m, Wirth Opera Studio
Sid the Serpent who wanted to Sing: Saturday, March 11, 1:00 p.m, Pollack Hall
Le Portrait de Manon & L'heure espagnole: Saturday, March 11, 3:30 p.m, Chapelle Historique du Bon-Pasteur
Bluebeard's Castle & East o' the Sun, West o' the Moon: Saturday, March 11, 8:00 p.m, Théâtre Paradoxe