Le Festival de la Voix
Vox Aeterna est une entreprise à but non lucratif qui soutient les arts de la scène dans la communauté dont le Festival de la Voix qui se tiendra du 21 mars au 29 mars quand l'ouest de l'île de Montréal, soit à Beaconsfield, Pointe-Claire et Dorval. Pour sa 4e saison, Le Festival propose 6 concerts et 5 ateliers.
Chaque hiver, le Festival invite les chanteurs de tous les âges et de tous les niveaux de compétence à se réunir afin d'explorer et de développer leurs propres talents, ainsi que de découvrir des chanteurs et des musiques de différents genres, comme le chant lyrique en passant par le jazz, le folkolre, le chant choral, les musique du monde, la musique canadienne et québécoise.5 Events
---
---
---
---
---
Brott Music Festival
Now entering its 30th season, the Brott Music Festival (est. 1988) is the largest non-profit orchestral music festival in Canada, and, the only festival with a full-time, professional orchestra-in-residence.
The Brott Music Festival is renowned for its extremely high artistic standard, world class soloists, its exuberant young orchestra and its eclectic mix of orchestral, chamber, jazz, pops and education concerts at various venues across Southern Ontario.10 Events
---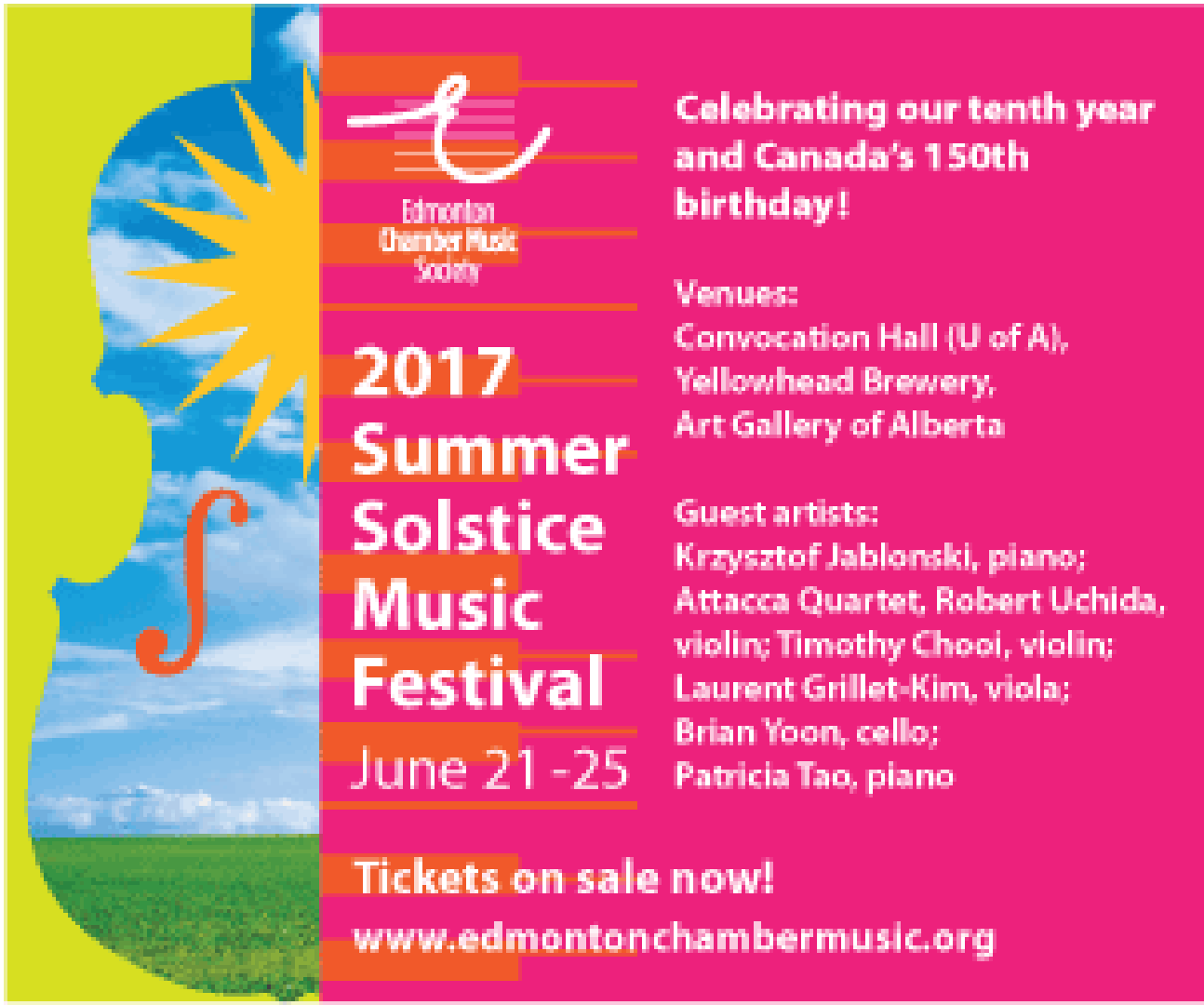 Summer Solstice Music Festival
Edmonton's first Chamber Music Summer Festival reaches its 10th Birthday this year. Set aside the dates for a series of inspiring and fun events. If you have never sampled the energy of this festival maybe this is the year to give it a try.
Krzysztof Jablonski will open the Festival with a solo piano recital on June 21. Other events include the young, vibrant and polished Attacca Quartet; a piano master class; Canadian compositions; a relaxed evening at Yellowhead Brewery, and a daytime concert at Ledcor Theatre at the Art Gallery of Alberta.
Day and night you will be able to enjoy five wonderful days of chamber music. Tickets will be on sale at our final concert on April 27.6 Events
---
Festival d'opéra de Québec
Pour sa septième édition (déjà !), le Festival d'opéra de Québec vous propose deux magnifiques semaines de rendez-vous lyriques, offrant au plus grand nombre la plus haute qualité artistique lors d'une kyrielle de prestations variées présentées aux quatre coins de la ville.
Que vous soyez amateur d'opéra ou tout simplement curieux de connaître cet art incomparable, nous espérons que vous passerez un merveilleux Festival d'opéra 2017 !14 Events
---
---
New Brunswick Summer Music Festival
The New Brunswick Summer Music Festival (NBSMF) is a two-week classical music festival of live performances by Canadian artists, music education events and artist development initiatives. NBSMF has provided top quality classical chamber music concerts in Fredericton and the region for twenty-four seasons. It is one of the most established and stable musical organizations in the Maritime Provinces and showcases both local professional talent and emerging artists while bringing in great musicians from elsewhere. Over the years it has expanded from a four-concert series to a full two weeks of activity that includes free concerts, concerts in alternative spaces, community concerts, pre-concert talks and workshops.14 Events
---